Brochures
When you need to market more details about your medical practice, a bi-fold, tri-fold, or double-gate fold brochure is a fantastic medium for communicating important information about your practice to potential patients or to referring physicians.
Our designers will work with you to create a a beautiful brochure outlining the medical services your practice offers, your healthcare providers and their qualifications, and your office locations. Our designers marry your practice's pertinent information with the design style of your logo, website, or other marketing materials to create a cohesive marketing package.
The following are examples of brochures recently designed and created for MMA clients.
Double-gate Fold Brochures
Southeastern Aesthetic Surgery
---
VEINatlanta
---
Infectious Disease Services of Georgia
---
Personalized Physicians
---
The Philip Israel Breast Center
---
Tri-fold Brochures
Spine and Pain Center of New Jersey and New York
---
Wake Skin Cancer Center
---
South River Pediatrics
---
Virgin Islands Oncology & Hematology
---
Southwest General Surgery
---
Women's Specialists of Fayette
---
West Georgia Gastroenterology Associates
---
AIM Primary Care
---
Peripheral Arterial Disease
---
Northside Spine & Pain Specialists
---
Atlanta Pain and Wellness
---
Bi-fold Brochures
Medical Associates of Georgia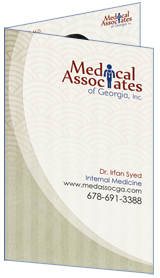 ---
North Atlanta Spine & Pain Care